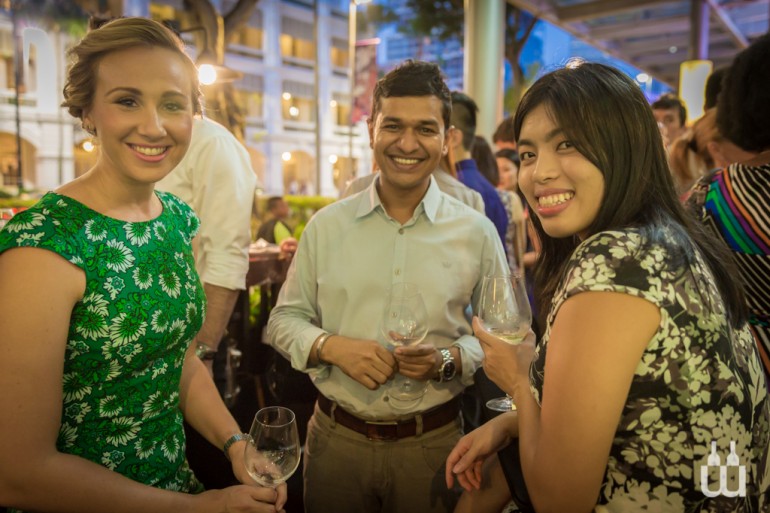 Wine Tasting Singapore – Wine Haven #02
---
Last Thursday 3rd September 2015 saw more than 30 wine lovers enjoying the second edition of Wine Haven, a sophisticated wine tasting event in Singapore. Held at Salt Tapas & Bar, wanderwine's sommelier in residence Fazil, World Gourmet Summit Sommelier of the Year 2015 and one of Singapore's top sommeliers, welcomed guests and talked everyone through six of his carefully curated wines from all across the world.




The wine tasting started with the first (and only white wine for the evening) which was the delightful Marques De Caceres Verdejo 2014
from Spain. This refreshing and fruity wine was a welcoming start to the wine tasting and was enjoyed by all. Guests commented on how fresh and clean it was on their palate, with characteristics of tropical fruits, hints of grapefruit and notes of hibiscus. A perfect white wine to enjoy in Singapore's humid climate!
The second wine was an extraordinary Merlot from South Australia – Irvine Estate Merlot 2012. Inspired by the sheer strength and balance of the recognised world's best Merlot from Chateau Petrus, this winemaker decided to specialize in luxury Merlots. Awarded a 5 star rating rom James Halliday, this wine was certainly one of the favourites of the night!
Next up, guests were presented with a Cabernet Merlot from a boutique winery in Margaret River. This wine is extremely versatile when it comes to food pairings, and complemented the delicious array of canapés prepared by Salt Tapas & Bar.
A Malbec from the Medoza River in Argentina followed. A sip revealed lovely flavours of dark cherry, plum, savoury fruits, black pepper and espresso, making it a vibrant powerhouse to the mouth!
Fazil then shared the history of Maycas Del Limari Reserva Especial 2009, a special Syrah from Chile before the last wine of the evening was unveiled – a top quality Cabernet Sauvignon from Maipo Valley. Also produced in Chile, this bottle was an impeccable way to round off the evening, with everyone having big smiles on their faces!


We look forward to seeing old and new wanderwine friends at the next Wine Haven event where we promise to have a special surprise in store for all guests! Sign up for our newsletter and be the first to know about our next event!
The wines that were enjoyed at the second Wine Haven #02 wine tasting included:
• A refreshing and fruity white wine from Rueda, Spain – Marques De Caceres Verdejo 2014
• A Merlot from South Australia, by a winery specializing in luxury Merlot wines – Irvine Estate Merlot 2012
• A Cabernet Merlot from a reputable boutique family winery in Margaret River – Celestial Bay Cabernet Merlot 2006
• A wine harvested from pristine Malbec vineyards at 3000 feet in Argentina – Layer Cake Mendoza Malbec 2011
• An exciting wine created with careful vineyard mapping in Limari Valley – Maycas Del Limari Reserva Especial 2009
• A Chilean Cabernet Sauvignon from Maipo Valley, blessed with the protection of angels – Vina Maipo Protegido Cabernet Sauvignon 2009