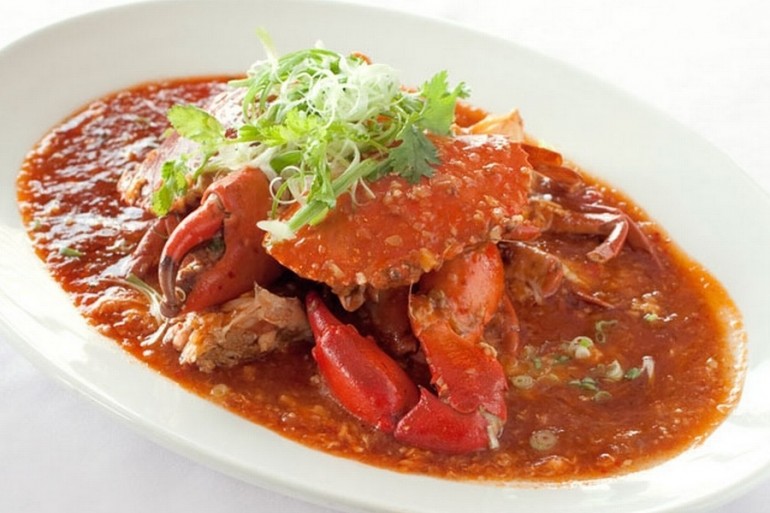 By Gerald Lu
---
So the inevitable happened.
As a local boy and Sommelier, the question of food and wine pairing with our local dishes never ceases to come up throughout my working life. I get a question on my thoughts on pairing wine with a local dish at least once a fortnight and friends trying to get me to help assemble or inviting me to an event which puts two and two together.
To be honest, it is actually pretty fun if we take it with a pinch of salt and simply "hantam" (a slang to whack or hit) blindly what goes with what. However, if you really want to dig a little deeper and find a connection between a predominantly European-made product and a mash-up of Asian and South-East Asian flavours, it is similar to finding a way to integrate sambal belachan perfectly with beef bourguignon – a little tricky and a little annoying.
---
Firstly, most of us (at least those who have painstakingly been reading my articles – I applaud your patience) know that wines come in such great diversities; ie. A Riesling is hugely different coming from Alsace, Mosel or Washington.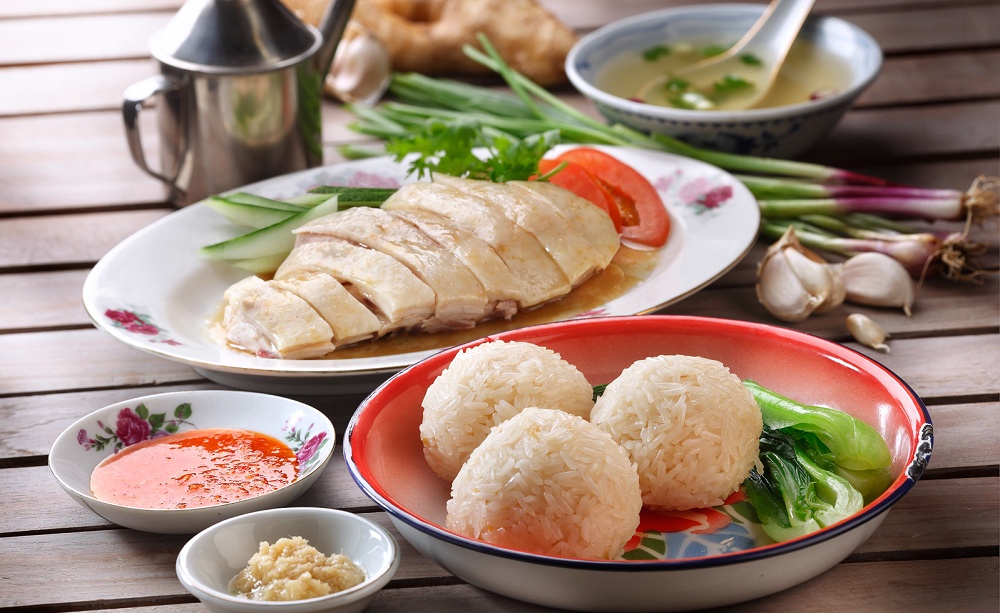 Singapore's pride and joy: Chicken Rice!

Similarly, our local dishes can come with a fair amount of differences as well! Let's take Chicken Rice for example – the world's most loved Singapore dish – which Singaporeans don't always eat (by the way) and break the components of the dish down a little.
- You can have rice that is rich and oily versus one that is more fragrant and fluffy.
- You can have the chicken roasted or sub-boiled.
- You can have the meat coming from various parts of the chicken, and let's not even get there – the vast variety of chicken being used for this dish!
- Next comes the chilli – piquant and sour or thick and spicy with garlic and ginger?
- Last but not least, how is the dish served to an individual? For some, only the chicken is dipped with chilli. Some take the dish with or without dark soy sauce. On the other end of the spectrum, some like to apply the soy sauce on the rice, mix the rice and sauce well, dunk chilli on top and munch it all up.
Now, that's a little crazy isn't it? But all these factors would ultimately affect my choice of maybe a Verdejo, Riesling or a Gewurztraminer.
So in an attempt to make one of my simplest pleasures less complicated, I will offer possibilities and allow everyone to try and make their own judgment according to individual preferences.
One of Singapore's most iconic National Dishes: Chilli Crab!
---
Ah! The controversial dish which our neighbours are claiming from us. Reserving the political side of me, here's a little background on this dish according to a few sources:
- My uncle, a chef who has been cooking in Chinese kitchens for 30 years,
- Dr Leslie Tay, whose guides to Singapore Eats I rank as probably the most accurate available here, and
- My parents, self-professed local foodies who brought me along on long trips to smoky places when I was a kid, regaling me with stories of long lost food, famous vendors and pushcart spots.
---
So, in a nutshell, Madam Cher Yam Tian, a Teochew (they are known to bring out the best in the freshest seafood ingredients) lady, was tasked by her husband to make an alternate version of crabs because he got bored of eating them steamed. Tomato sauce and some chilli were added and the first version of the chili crab was born. It became really popular amongst friends and family and soon they were selling it from a pushcart, next to a little shack along East Coast Beach. The name "Palm Beach" was coined because of the coconut palm trees along the beach then. This story was dated way back in the 1960s.
Subsequently, Hooi Kok Wai (I was told that the other 3 "Heavenly" Chefs were also involved in the planning) invented the modern version that we see commonly today with the addition of sambal and eggs in the recipe.
Therefore, there now exists two basic versions – one that is sweeter with a little more tomato taste and lesser in richness without the eggs. And the other – spicier and thicker with lots of eggs. Using these two as the basis of our pairing, here are a few wines to help match them up.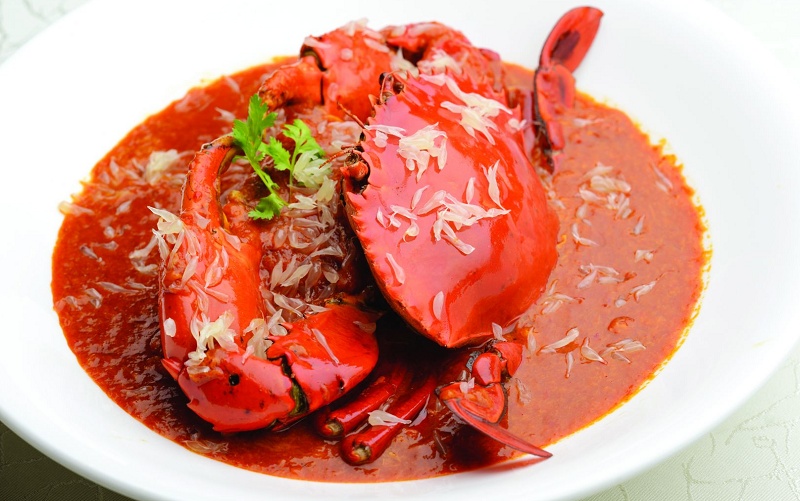 Version 1 – More Tomato Sauce and little or no eggs
Wine : Reichsgraf von Kesselstatt "RK" Riesling 2013
Region : Mosel, Germany
The bottle has a pale straw colour with a star-bright clarity. Very forward aromas of pink grapefruit and white nectarines and hints of slightly unripe peach. Superb acid backbone that is fresh and zippy. It is slightly off-dry with ripe white pear and nectarine dancing on the palate, accompanied by hints of teasing flint every now and then. The finish is clean and crisp with a nice refreshing minerality. Overall the wine is very direct and straight forward, nothing crazy complex or rich.
This Riesling is perfect to provide a little respite from the hotter temperatures of a dish. The touch of fruit ripeness helps to ease out the saltiness and match the sweetness of the tomato sauce. Finally, the fresh plump flavours of Sri Lankan crabs can be highlighted by the wine's great acidity!

Wine : Domaine Weinbach Riesling Schlossberg 2010/11/12
Hailing from one of the oldest vineyards in Alsace and being the first Riesling to attain the prestigious Grand Cru title, the Schlossberg is one of the benchmarks for great French Riesling. A bright straw colour with star-bright hue and clarity, the nose is filled with crushed white flowers, pear, lemon zest and tangerine peel. A lingering, flint and petroleum-like undertone surfaces on the second whiff. On the palate, visceral notes of pink grapefruit, nashi pear rush forth before exposing a bright sweet lemon undertone and floral scents. A beautiful acid river then followed, flowing through the mid palate. The finish (medium plus), is clean with flinty minerality ringing through the entire palate.
In comparison with the RK Riesling, the Schlossberg is inferior in ripeness, but packs a lot more power and energy from the flavour profiles and acid backbone. This wine will stand up to the dish in terms of flavour richness and complexity, creating an even greater array of flavours on the palate. This is a more daring paring as compared to the first but definitely a lot more exciting!



Version 2 – Spicier, richer with more eggs
Wine : Dr Loosen "Wehlener Sonnenuhr" Riesling Kabinett 2013
Region : Mosel, Germany
Ernst "Ernie" Loosen has got to be one of the biggest contributors to the popularity of German Rieslings around the world. Besides being one of the bigger boys in terms of quality in the market, Ernst is one of the loudest voices in the world when it comes to Riesling authority. Minerality is the name of the Sonnenuhr site from Wehlen. Rich and laden with a flinty, stony mineral backbone throughout the wine, the acid flirts around the palate gently. The ripe tones of peaches, white nashi pears and apricots are nicely balanced on the forefront. A slightly higher sugar content is expected since the wine is produced "Kabinett-style", but the acid structure and mineral-richness balances that out, resulting in a beautiful wine full of masculinity and flavours.
This has got to be one of the safest pairings I have ever had which hardly goes wrong with chilli crabs that are spicier and richer. The flavours and structure of the wine holds up well with the textures of the dish, the sugar balances out the spices, whilst the acidity and minerality cleans up and highlights the fresh crab. It is always a pleasure to drink this bottle with chilli-laden seafood dishes in Singapore.

Wine : Hugel Gewurztraminer "Jubilee" 2009
The Hugel family has been making wines in Alsace since the 17th century. Centuries of experience have contributed much to their knowledge of making wines of terroir, intensity and yet possessing an underlying elegance. Coming from one of their best plots, the "Jubilee" range sees a Gewurztraminer bold and powerful right from the start. Big ripe apricots, orange blossoms and pink grapefruits assail the nose before opening up to lovely fragrances of lychees and hints of potpourri. A slight hint of overripe apricots hit the palate at first but then gives way to fresh notes of pink grapefruit and a lovely mix of red and yellow flowers. The wine has good acidity, finishing off with a stony and clean finish with a little pickled ginger spice. The complexity and layers of this wine is truly exciting.
The Gewurz definitely lent a great dimensional addition to the dish. However, depending on the spiciness of the dish, the Gewurz might shy away a little in terms of showing its ripeness. With a nicely balanced chili crab that is not too spicy, this wine shines brightly and gives the drinker a whole load of flavour complexity and intensity to contend with.
Overall, as you can see, Mosel and Alsace takes the cake in the pairing of chilli crab dishes. I tried an array of wines over the years and for the sake of this article (which I conveniently used as an excuse), a few stalls specializing in chilli crabs before concluding that these two regions are the most suitable for the task. The history, know-how and old vines contributed a lot, in terms of flavour intensity, power and that gripping mineral and acid backbone. This enables the wine to stand up to a complex and flavour-intensive dish like Chili Crab, which in my opinion, is no less befitting of the best wines and Rieslings in the world. Enjoy!