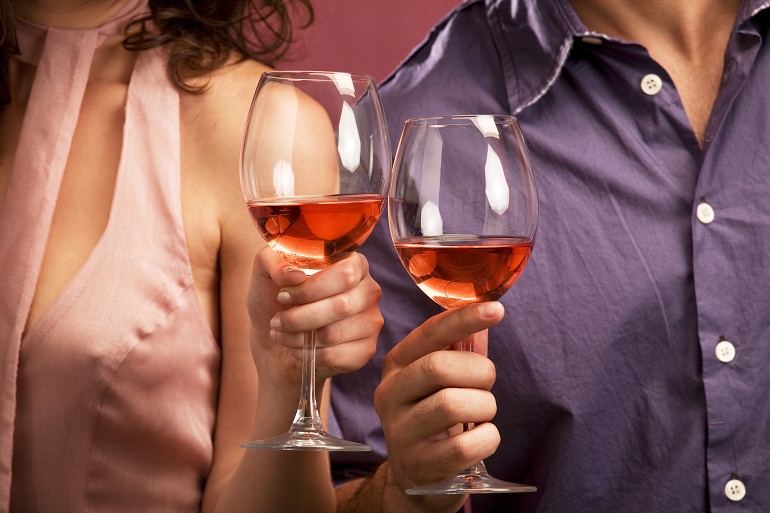 By Gerald Lu

"Love is in the air", shouts the slogans everywhere in town. Soft toys, chocolates and flowers suddenly cost more than a HDB flat. Cafés suddenly sell themselves as restaurants and restaurants charge you $500 more for a window seat and force-feed you within 2hrs.
+++
Ah. Valentine's Day. The all-so-familiar situations which we sadly but willingly get ourselves into in a bid to not feel lonely.
Pessimism aside, we celebrate this joyous day where people learn to love and lovers try to love even more. And since we are at it, why not, as always, LOVE IN STYLE!
Let us help you find a wine for Valentine's day
I present to you, the most romance-worthy wines in history:
+++
1. For the Melancholic – Château Chasse-Spleen, Bordeaux
It is said, in 1821, Lord Byron upon visiting the winery with his wife, was so in love with the wines that he quoted "Quel remede pour chasser le spleen" (What remedy to remove the spleen?). Subsequently, upon the death of his wife, the Lord would always revisit the Château, then called Grand-Poujeaux, to "chase away the melancholy". This led to the Château subsequently being renamed as such.
Made from predominantly Cabernet Sauvignon with around 20% Merlot and 7% Petit Verdot, Chasse-Spleen has always been deemed as one of the best the appellation of Moulis has to offer. Bright red and black fruits, ripe cherry, red currant and fig, spice box, blackcurrant leaf, cigar and tar are all common descriptors in naming this beautiful Bordeaux. Full bodied and robust when young, it is a wine that takes 10-15 years before it hits its peak.
The alternative : The second wine of Château Chasse-Spleen, on sales here: L'Heritage de Chasse-Spleen.
+++
Price : $80 – $300 (Depending on the Vintage)
Great For : That grill and steakhouse where watching each other down slabs of meat can be a juicy affair.
+++
+++
2. For the "Fancy-Schmancy" Name Hunter – Hugel et Fils "Cuvée Les Amours"
According to Georges Hugel, in 1970 a titled English Lady and a wine writer were having lunch at Georges' parent's home. The Lady commented to Jean Hugel (Georges' father, 1898-1980) how much she enjoyed the wine but that it was very difficult to find in England, as production was tiny. To make matters worse, many consumers mistook the elongated Alsatian flûtes to be German and therefore sweet.
The Lady went on to reiterate several times how the Hugel Pinot Blanc was and a fitting name might be Cuvée Les Amoureux (the lover's blend). Eventually, the Hugel family decided on "Cuvée Les Amours" — a name automatically associated with the French and love.
Made from 100% Pinot Gris, the wine exudes poached pears, apricots, white peach and bright white flowers. Hints of lemon peel and ginger line the mid-palate. Fresh, with a touch of creaminess but pure of flavors. Pick up and drink early or within 5 years!
+++
Price : $25 – $45 (Depending on the availability)
Great For : A night-out at the local seafood restaurant, gobbling down pepper crabs, salted-egg yolk prawns and steamed marble goby with ginger and scallions.
+++
+++
3. For Celebrating the Valentine and the Power of Love – Champagne Veuve Clicquot Ponsardin & Champagne Bollinger
The two great ladies of Champagne!
Barbe-Nicole Ponsardin, widow at 27 years of age, was handed over a company involved in wool trading, banking and Champagne production. True to carrying her legacy of her husband, Madame Clicquot soldiered on and brought new Champagne techniques to refine Champagne to what we know of today. Veuve Cliquot's top wine, or Cuvée Prestíge is aptly named "La Grande Dame" after the great dame she once was.
On the other hand, in similar fashion, Madame Camille Olry-Roederer stepped in to helm the once-thriving house of Louis Roederer after it lost swaths of fertile acreage to the Kaiser's bombs in World War I, then its market to the Bolshevik Revolution, the Prohibition and the Depression. In 1932, the Louis Roederer house was "literally bankrupt". As being a beautiful and attractive woman herself, Madame Olry-Roederer identified her Champagne with glamour. From an international socialite, she turned into a great marketer and associated with the set of artists, writers, auteurs and actors of the French nouvelle vague like Yves St. Laurent or Jane Fonda. Eventually she succeeded to establish Roederer into the U.S. market, with Cristal becoming a huge success in the high-end American circles, and in clubs in the '60s and in the '70s, including the famous Studio 54.
Want to try it? Champagne Brut Premier Louis Roederer NV, or for the ultimate love experience Champagne Rosé Louis Roederer Vintage 2009.
+++
Price : $75 – $100 (Non-Vintage Champagnes) / $250 – $350 (Prestíge Cuvées)
Great For : Anywhere really. Drink it at the start, drink it throughout and pop another right in that hotel room. Because you can, drink with caviar, lobster, sea urchin, langoustines, Alaskan crabs, Fine de Clairs and anything expensive EXCEPT chocolate and strawberries. Unless you'd like your tongue to feel like the juice of a 100 lemons.
+++
+++
4. For That One True Love – "Les Amoureuses" 1er Cru from any producer
There are a couple of stories on how this premier cru vineyard in Burgundy got its name. Simply named "The Lovers", this remains one of, if not, the most sought after premier cru in all of Chambolle-Musigny or even Burgundy. Legend has it that a pair of lovers were so deeply in love and hung out all day in the vineyard (supposedly to eat berries) that the vines, enthralled by their romance, produced wines of such lush, velvety texture yet opulent flavors.
Made from 100% Pinot Noir, the wines are considered, if not at least, priced like a Grand Cru vineyard. Measuring only 5.42 hectares and owned by only a few producers, this is a wine truly sought-after and revered by all. Robust and ripe flavors accompanied with a firm tannin structure which melts away in mid-palate, revealing a lush, velvety texture with tones and nuances of spice, earth and herbs. A treat, if not, one of the greatest pleasures a winelover can experience. The largest producer is Robert Groffier with other famous ones including Georges Roumier, Comte Georges de Vogüé and J.F Mugnier.
+++
Price : $650 – $4000 (Depending on the Producer & Vintage)
Great for : As the name suggests, that one true love. Go crazy and open it in a Chinese restaurant with roasted duck or do it in classic fashion, in a posh French restaurant with Poulet de Bresse or Coq-Au-Vin.
+++
Love has no boundaries and love is blind, so close your eyes, take a deep breath, open up your wallet and splash some cash on the best for that sweet Valentine!