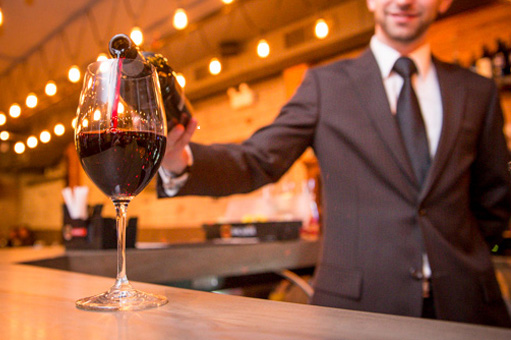 By Gerald Lu
Many a time, I shuffle around my little wine bar, talking to friends and customers about anything under the gastronomic sun – from how ridiculous yet secretly-revered the price and wait for Heston's restaurant in Melbourne is, to whether hipster cafes should be considered gourmet restaurants to how we need more female Sommeliers (for gender equality of course).
Every now and then, however, the topic of the lack of best Sommeliers in Singapore or the comparison between Sommeliers (for the supposedly wine-centric "connoisseurs") inevitably comes up. These "discussions" usually start with the Sommelier being beat-down based on the wine list, or how he/she is not well traveled or experienced enough, or how pushy, rude or overbearing the Sommelier can be. Whilst sometimes true, we tend to fall into judging people based on our own perceptions and putting together biased and uneven comparisons. To add my two cents to a possibly overcrowded jar, here are my own tell-tale signs of a Good Sommelier:
1. He Likes People
Everytime customers walk into the restaurant, whether they are dressed in Zegna suits and look like they would buy a vertical of Petrus' or whether they look like that couple who comes in to share one appetizer and drink iced water, the Sommelier smiles, greets and acknowledges their presence on the floor. Sure, the time spent with each may vary based on their requirements and level of communication on the topic, but the Sommelier makes sure their beverage needs (including iced water) are taken care of and all of them get his/her undivided attention whenever needed.. Most of all, he always starts with "What do you feel like drinking today?" and gets pissed (both ways) when a customer doesn't finish the wine – a Sommelier like that makes even water taste extra tasty.
2. He Drinks Everything and Anything
Every time you see him, he is drinking all sorts of beverages. From soya bean milk to Soju, Oolong Tea to London Pride, Tequila shots to Moutai, this person drinks it all. Allergies and medical reasons aside, an acceptance and a willingness to try, explore and consume different beverages shows an open-mindedness and respect for drinking cultures all over the world. This in turn will eventually allow an endless array of topics between him and the customer, and eventually, more fun and good times.
3. He Is Always Excited About Wine From Anywhere
Sure, we all love that hedonistic 82' Lafite, that ostentatious 85' Conterno Barolo and that slinky 90' Henri Jayer Cros Parantoux, but bring on that Cabernet from Ningxia, China or Alphonse Lavalle from Bali and he'll consume it all (Maybe not all, but at least a couple of glasses). This Sommelier is always buying the craziest, funkiest products and opening them up, sometimes even for free, for his guests' to try and tell them whatever little or much he knows. Sommeliers like these are passionate and free-spirited. You will rarely hear him talk down wines from anywhere in the world. He understands that every wine is designed differently from the rest according to the cultures and habits of the people from where they are from. He knows that drinking wine is all about the people and never the price or ratings. A sommelier like that you will never get bored of and always be excited to try something new with.
4. He Loves Telling Stories
Pick up a bottle of anything in the restaurant or shop and he immediately comes over, not just to describe the flavors of the wine, but to tell you everything, from the reason behind the bottle's shape, the romance behind that dog in the label or the most appropriate glassware and serving temperatures. Best of all, he gesticulates and paints with his hands and fingers excitedly. Buying a beverage suddenly takes you through time and space where the wine comes alive and you start falling in love. Suddenly, that 50-dollar wine feels like its worth 500-dollars, and that 500-dollar wine you just paid for felt like a 50-dollar bargain.
5. He Is Crazy About Food
I'm not saying that a Sommelier should stuff his face and start tippling wine glasses over with his belly. A good Sommelier understands the undying and eternal love between drinks and food and how their origins were matched based on the local cuisine being served. An understanding of food origin and history, cooking methods and techniques, cuts and types of meat and seafood and the harmony of herbs, spices and sauces are all essential to helping a Sommelier find the best possible pairing with a beverage. The more diversely a Sommelier eats and the more curious and picky he is with his food, the higher the standards of breaking the beverage down and matching it with the wine he will want to apply.
And there you have it! All being said, as paying meticulous attention to the wine list, beverage pricing and costing can be trained and taught, a good sommelier should have or start developing the qualities described above.
The next time you see that young wine waiter who may not have traveled to any wine producing regions yet, or speaks fondly about that easy drinking Claret, give him a chance and grow with him. I assure you, the experience over time with your local Somm will be one of the most memorable gastronomic journeys you will ever partake in.